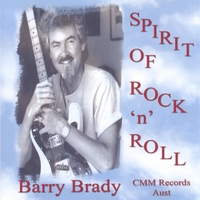 Spirit Of Rock 'n' Roll
CD IN STOCK. ORDER NOW. Will ship immediately.
http://cdbaby.com/cd/barrybrady
A new Rock N' Roll, upbeat, good lyrics and music.
Barry Brady is a young man who picked up a guitar, formed a band and welcomed "Rock N' Roll" with open arms. Fame and fortune never came his way, mainly due to the fact he was not really looking for it. However, one day during the mid 1960's another young man full of confidence and enthusiasm, introduced himself in the group armed with plans and schemes, hopes and dreams and became their manager. Along with organizing, various appearances on popular TV shows including Billy Thorpe's "It's All Happening" he had secured the band a recording contract with BMI Records.

Barry Brady releasing his first album as a singer songwriter, his roots being in Rock N' Roll are clearly defined. Titles like "I Still Love Rock n' Roll", "Boogie Woogie Country Boy" "Spirit Of Rock N'Roll" speaks for themselves.

Barry Brady's music also encompasses a wide variety of styles and moods, ranging from country to ballads to blues. Sounds that are easy on the ear, reminiscent of a time when music had a Backbeat rhythm that grabbed at your soul, a tenor sax that ripped it apart, an 88 pumping over an old slap bass. This is Pure Rock N' Roll from the heart.

I am sure you will believe this album, "Spirit of Rock N' Roll" is both refreshing and, in some way nostalgic, a breath of fresh air in a time of repetitive sounds.

Referred by CMM Records now known as Nuway Records  Barry Brady has been signed to "Gevania Records LLC" USA collaboration and distribution agreement. Any licensing is required in writing to the Administrator of Publishing and permission is required in writing in regards to any advertising of CD/songs or written material under this agreement.