Joe Pierre's musical career started at his graduation at JR High. He was selected to sing that great song "OLD MAN RIVER" from that day he knew that he was going to be an entertanier. He never looked back, and he performed in many countries by being in the US NAVY (avaition dept) Joe Pierre was the band leader of "PIERRE & THE MARKEES" for about eleven years then he started singing gospel in 1987.  
Joe Pierre still has that R&B feel in the songs that he writes. The song "Hold On" was inspired through situations going on in his church.  Also from an accident that took the lives of his best friend his Daughter and her children, his only Grand kids. That song came real easy to Joe Pierre
Joe has just released his new CD "You've Been Good"  Joe composed the music, wrote the lyrics and sung all the tracks.  Joe Pierre also collaborated with another album "Each Step A Miracle",  Jacqueline Shor was the lyric writer of the songs and he also assisted with his daughters new release "Fragrance of Love"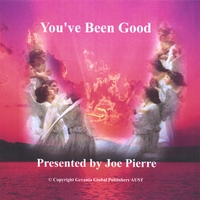 http://cdbaby.com/cd/pierrejoe 
Joe Pierre passed away during the year from a stroke. His music will live on forever. His daughter Pam Barnett is now power of Attorney on all his music with the Gevania Global Publishing/Administration Agent.